Blockchain-backed customer engagement solutions that
looks and feels like your brand,

not our tech.
Customer Engagement Expertise
We're no stranger to this market. Our brands Perk Social and Digital Diplomas and FanCutouts.com have provided unique technology and revenue solutions for over 15 years to professional sports teams in football, hockey, basketball, racing and baseball, and collegiate and premiere fortune 50 companies. We understand the nuances of working with large institutions to deliver compliant and effective results and revenue in a big way. 

Rare Goods + Perk Social has unlocked the future of fan insights with the first data-driven loyalty program with NFTs.
User #
41234
53126
63125
91827
watched a video
sold an NFT
renewed season tickets
updated their address
subscribed to SMS
purchased an NFT
spent $73 on concessions
Blockchain Crypto NFTs Loyalty Security Marketing Compliance Customer Service
Blockchain Crypto NFTs Loyalty Security Marketing Compliance Customer Service
Instantly add fun upside to your products
We elevate your products by adding incentives, rewards, and exclusive content. It's fun for your customers, and the perfect way to keep them engaged.
Click below to see how we help capture and engage your customers.
flexibility in accountability
The collegiate space is changing more regularly than ever before. We developed Dynamic Royalties™️ to allow you to update your revenue allocations as you need in the future.
Once a NFT is minted, you cannot change the royalties, but with our proprietary Dynamic Royalty system, you can update allocations as your business changes.
You'll have total customer insights and analytics to help you scale your company-wide initiatives.
By incorporating social connect, we capture existing user data, then gamify and track every survey, quiz, challenge, and engagement with the system to build a robust collection of insights and data without having to impose on users. 
Full Name
Age or Age Range
Gender
Location & Hometown
Profile Photos
Likes and Interests
Birthday
Email Address(s)
Actions in System
User Influence
Social Impressions
Segment Tags
System Standing
Shares in System
Post Engagement
Sales Conversions
Program Referrals
+ Plus much more
We provide the most comprehensive and actionable data in the industry
You will have full access to a complete CRM with detailed profile views and insights for every customer that participates in our programs. This data is 100% yours and we do not share it with other sources, clients or campaigns.
Your Customers, Your Data
Unlike Social Media
Networks
You have full data and insights of your customers and audience allowing you to export them and enhance your other marketing campaigns and data.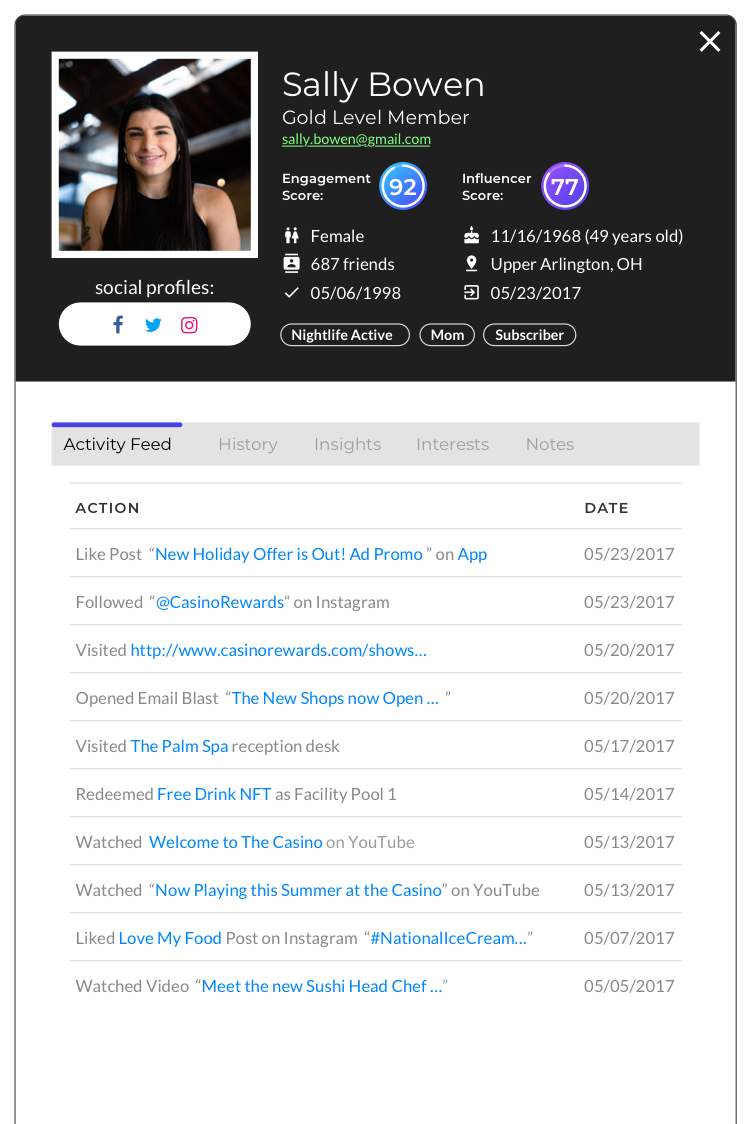 We would love to speak with you.
Feel free to reach out using the below details.