If it matters to you, we make it worthwhile for your customers
It's not a secret that it costs 10 times more to win one new customer vs keeping an existing one. In today's 'always on' world where choices are endless, we've developed turnkey platforms to put your engagement and loyalty on autopilot.
sign up for the newsletter
fill out a survey
book a room
visit a storefront
share on social media
see a show
refer a friend
download our app
submit a review
purchase a product
earn 500 points
get a discount code
unlock exclusive content
earn a reward
unlock an NFT
get early access
be entered to win
get free shipping
User Journey
We engage and reward your customers at every step of their brand journey with you
view our interactive example below
Engage
Sally checks into the hotel and sees an introduction on the room key jacket for the new rewards program.
We make it easy for your customers to sign up for the rewards program via QR codes or NFC tags. She could have also received an invitation with her hotel booking prior to arrival via email confirmation.
Customer Benefits
1
Points
0
NFTs
0
Rewards
Customer joins and immediately earns points and/or rewards
Free to join and simple to sign up in less than 30 seconds.
Your Benefits
Data on when and where your customer enrolled and which campaign converted them to join.
A new customer in your database with full marketing permissions and key contact and personal data.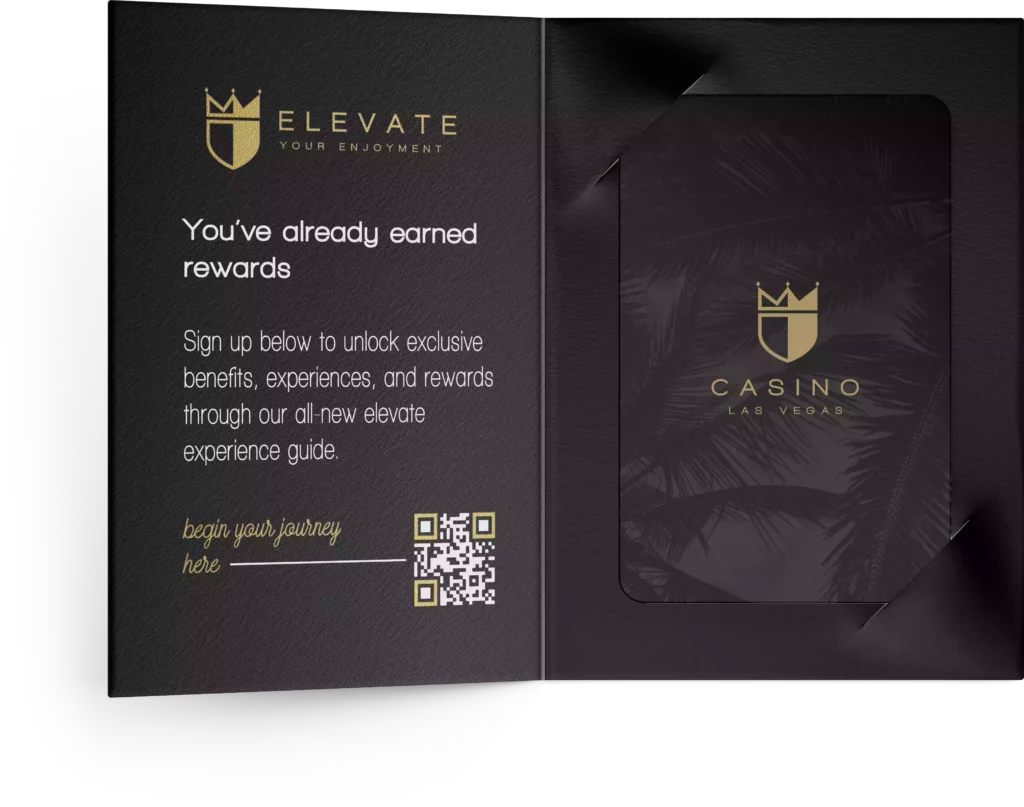 Collect
Upon joining, Sally completes an experience questioneer earning her a bonus NFT-backed Gift.
We prompt customers to get a personalized experience by telling us about their preferences or favorite activities. This allows you to suggest content, experiences, or products based on what the customer has expressed interest in.
This data can be used to create customer segments for offer targeting and engagement within the program our your other platforms.
Customer Benefits
1
Points
0
NFTs
0
Rewards
Huge earning opportunity as they add to their account profile
For this initial challenge we like to reward customers with an instant win of a coupon or free NFT
Your Benefits
Significant data point capture that you can customize
Demographic and customer affinity data

Welcome, Sally
Tell us what you would like to experience during your stay, and we will show you personalized offers, recommendations, and rewards.
Select your ideal experiences
Click submit above to preview her reward
Entice
Sally sees that visiting the Hotel Spa welcome desk earns her 5 points and a discount if she books a massage on this trip.
Opening the program reveals loads of pre-programmed actions and content that gamifies exploring your Casino. Customers might see a Check-In Challenge that encourages them to visit a specific location, tap to earn with a QR code or NFC tag, earning them an instant benefit or reward.
Customer Benefits
1
Points
0
NFTs
0
Rewards
A fun Challenge that gets them moving around your Casino and Hotel
Points, a reward, or a coupon to book an event or service
Your Benefits
People visiting a service or area you want to see more foot traffic
Customers who now have details about services or events they might not have if not prompted
Data on what discounts entice people to book a spa treatment (or service) who haven't booked one before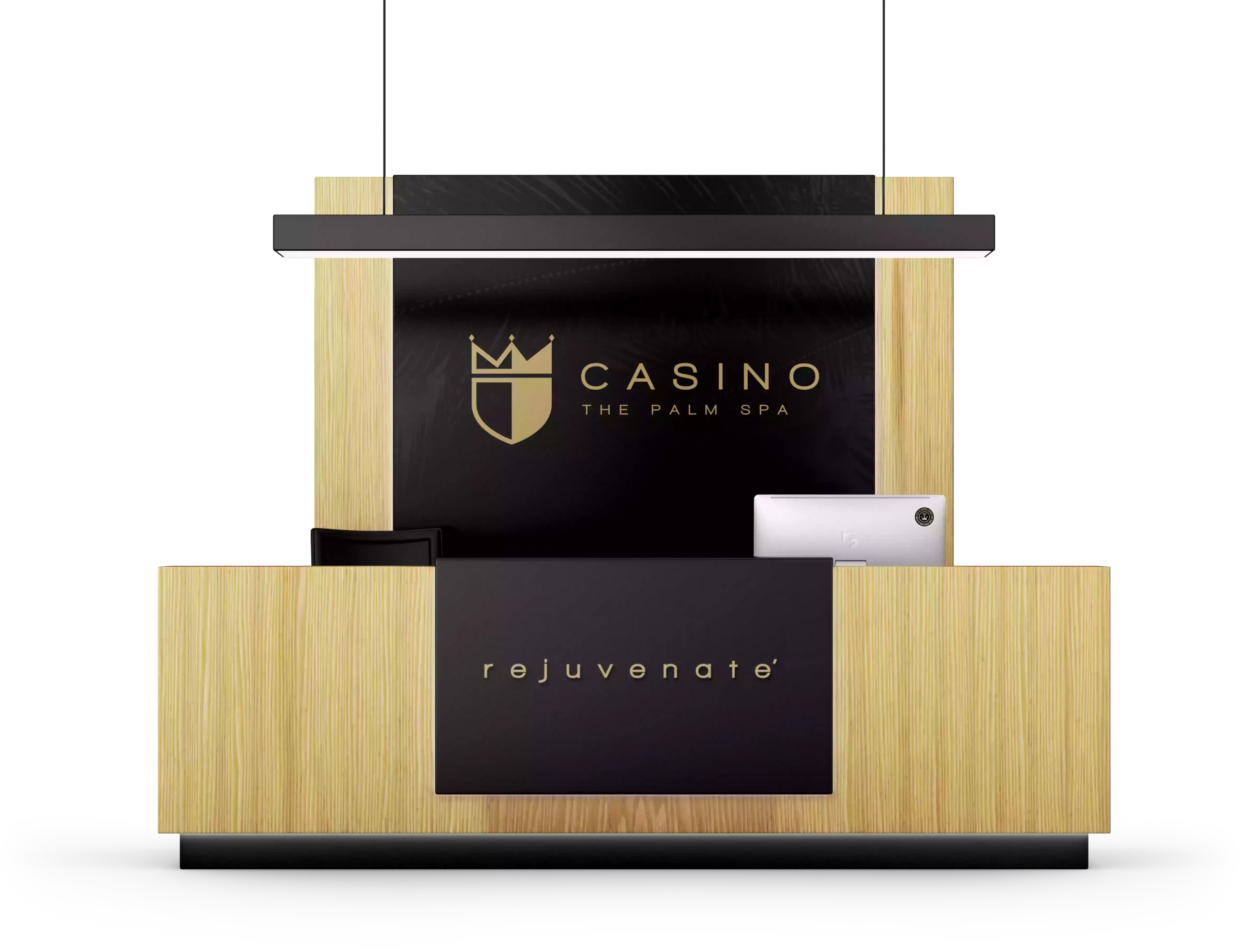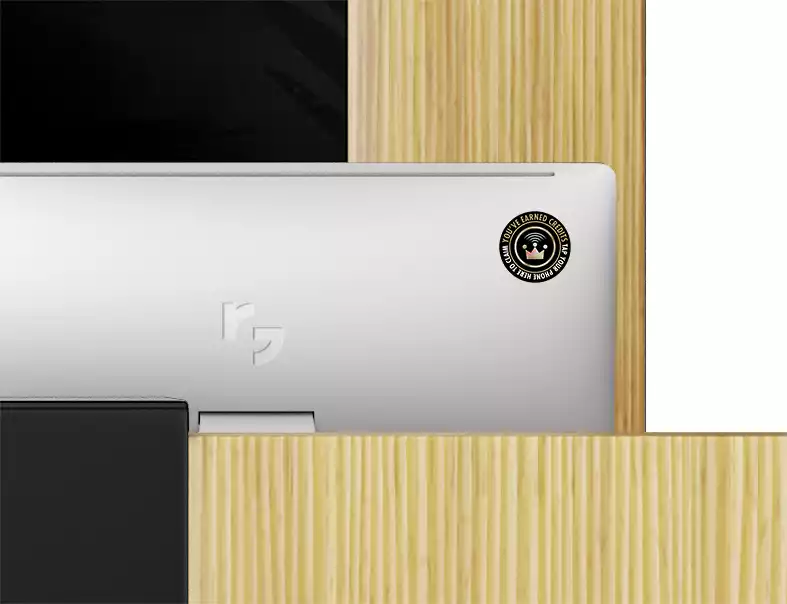 Engage
While waiting for her spa treatment, Sally watches a video about the new Magician show at the Casino for 5 points.
Video Challenges give you the opportunity to capture a guest's undivided attention for a couple of minutes. No other platform, program, or club tracks this kind of experience.
Customer Benefits
1
Points
0
NFTs
2
Rewards
Points that get them closer to rewards or sweepstakes entries
Progress to the next level of membership that requires a set number of points to achieve
Your Benefits
Captive audience to advertise any service or event or announcement you may have
A guarantee that the video has been viewed over and above general marketing and advertising that may or may not be seen around town

Tonight's Show
You've Unlocked
25% off Show Tickets

Claim Now

Hours Minutes Seconds
Engage
At the blackjack table Sally is extended a tap-to-earn icon from the dealer after she plays her first hand. She earns 10 points and a coupon for the Ice Cream Shop.
A Check-In Challenge that is in conjunction with an activity people were already excited to participate in lifts the atmosphere and gives guests an instant good feeling. Nothing is better than a gift you weren't expecting.
Customer Benefits
1
Points
0
NFTs
0
Rewards
Points that get them access to more rewards or entries into sweepstakes
Progress to the next level of membership that requires a set number of points to achieve
An instant win of points, NFT, or reward even if they don't make any money at the table
Your Benefits
Information on where your guests are stopping to play and gamble
Data points on what individual guests are truly interested in.
Data that influences your advertising content in order to curate based on guest's interests
Opportunity to drive traffic to gambling areas in the Casino you'd like to highlight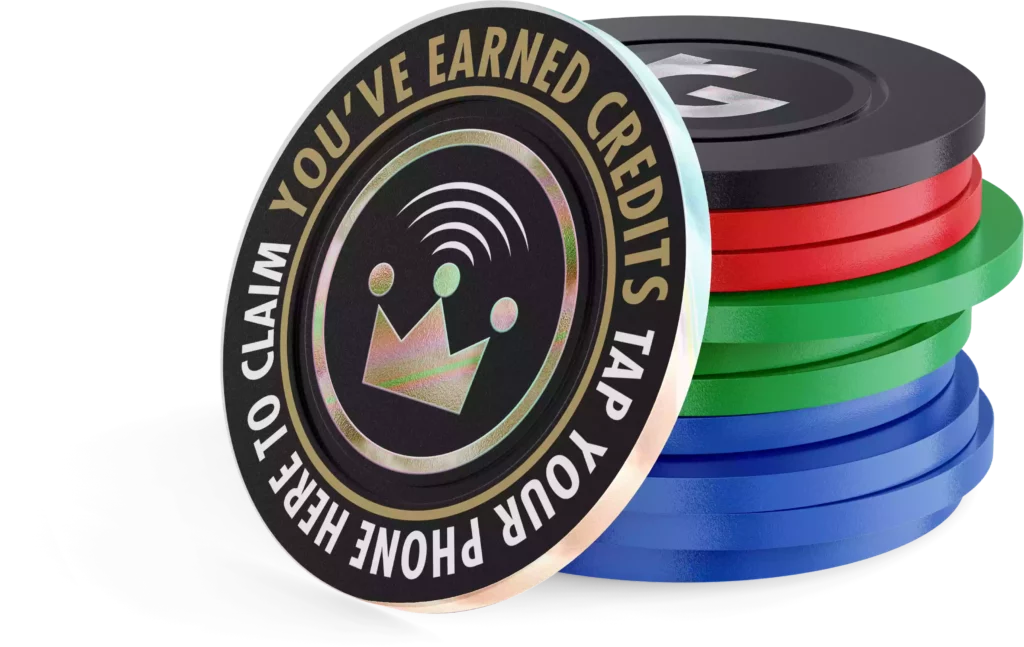 Engage
When finished with dinner at the newest Casino restaurant, Sally notices the check presenter has a tap-to-earn icon. She earns 5 points.
Check-In Challenges associated with food or fun activities only drive people to keep opening up their app. Guests feel that all their activities are working to their benefit in your Casino.
Customer Benefits
1
Points
0
NFTs
0
Rewards
Points or coupons that go toward their next stop at the restaurant
A benefit after they have just spent money in your restaurant
Your Benefits
Data on where specific guests frequent and what they buy
Opportunity to drive them back to your restaurant with coupons or discounts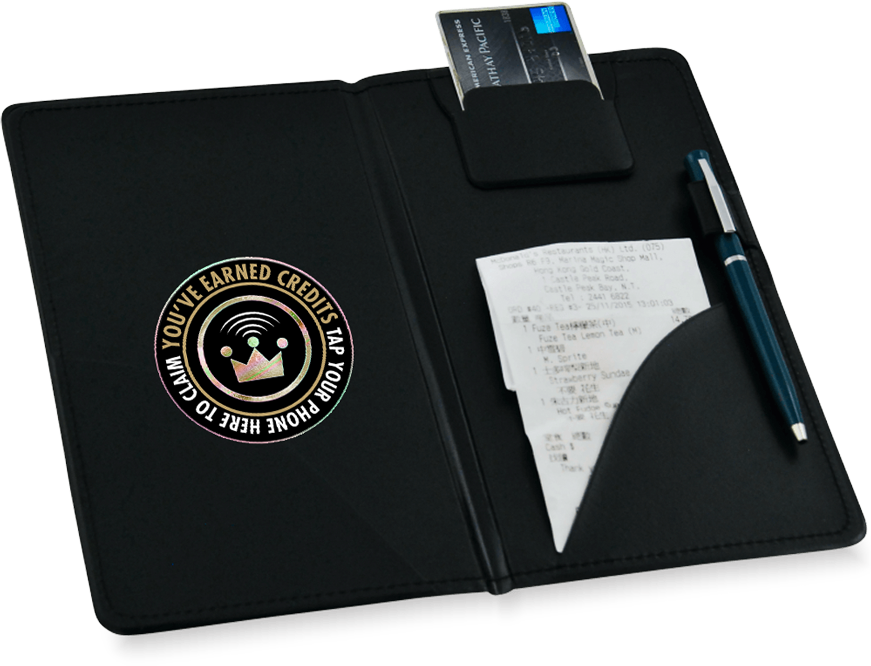 Engage
Sally is by the pool and shares on her social media the Casino's latest comedy line-up. This earns her 10 points and unlocks a "Free Poolside Cocktail."
Share Challenges are a great way to convey information and connect with the customers sphere of influence. Posts are created on behalf of the customer that they share. This bypasses advertisement filters on media platforms. Automated emails can be sent after challenges are completed.
Customer Benefits
1
Points
0
NFTs
0
Rewards
Huge earning opportunity as they share about your brand or event
Unlock special NFT or video message exclusively for Program members who completed the Share Challenge
Your Benefits
Larger organic reach for your brand
Direct advertising to consumers who share affinities with program member having spent ZERO marketing dollars
A customer who feels special for participating in your loyalty and rewards program


Thanks for Sharing
Free Pool Side Cocktail
Added to your rewards
You've Unlocked
Show to your waiter to redeem off your current tab.

View Barcode

Engage
Two weeks after her visit, Sally receives a stay survey. Upon completion, she receives 5 points and unlocks a coupon for her next visit.
Survey Challenges or Quiz Challenges are a fun way to gather information from your customers and guests. Challenges extend beyond being on-site at the Casino, keeping your brand in their mind all year. You get all the associated data.
Customer Benefits
1
Points
0
NFTs
0
Rewards
Fun way to earn points on their way to rewards and entries into sweepstakes
Way to give feedback and feel like a participant and partner in the life of the Casino
Coupons or access to exclusive events are great for customers and guest
Your Benefits
Fantastic data points for your marketing team
A customer who feels more connected to your brand and Casino
Customers who become "bought in" to your brand and are pulled back to your property

VIP Discount on Next Visit
You've Unlocked
35% off 3-Day Stay

Claim Now

D H M S

Actionable Data
You'll have total customer insights and analytics to help you scale your company-wide initiatives.
By incorporating social connect, we capture existing user data, then track every survey, quiz, challenge, and engagement with the system to build a robust collection of insights and data without having to impose on users.
Full Name
Age or Age Range
Gender
Ethnicity
Location & Hometown
Profile Photos
Likes and Interests
Birthday
Email Address(s)
Actions in System
User Influence
Social Impressions
Segment Tags
System Standing
Shares in System
Post Engagement
Sales Conversions
Program Referrals
+ Custom Insights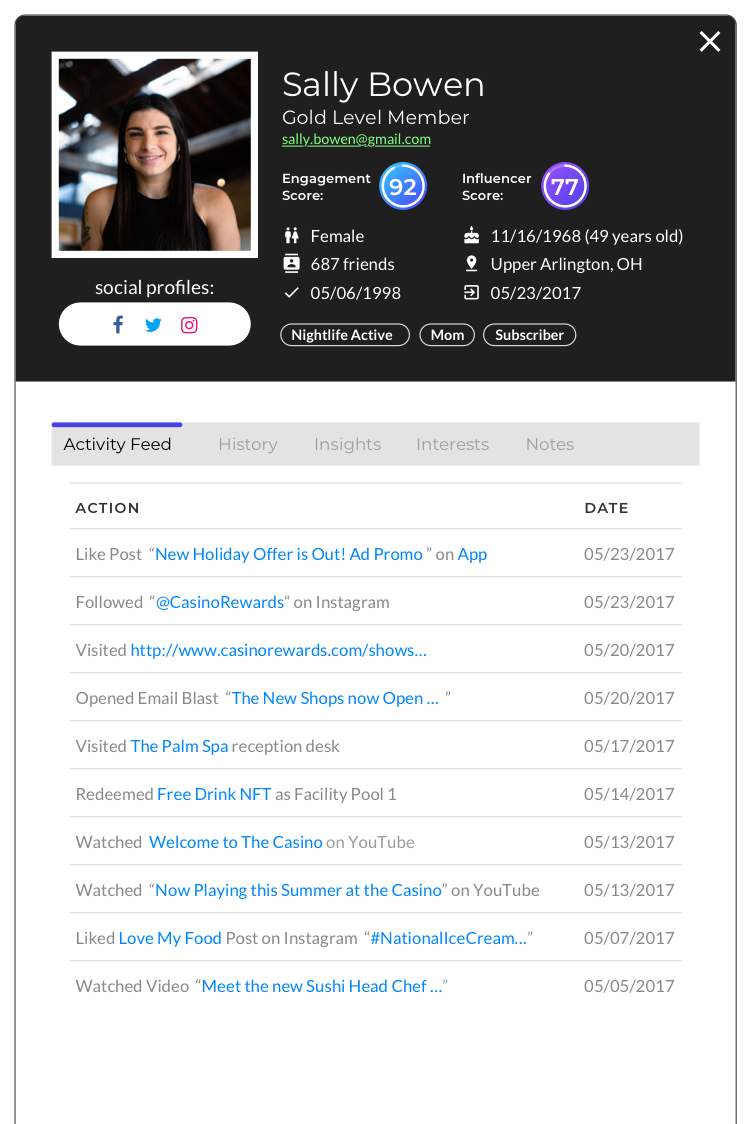 Our library of gamified actions drives value to you while offering fun benefits to your customers.
We offer the most versatile and valuable set of actions available. All through an easy-to-use and 100% compliant system.
You tell us where you want engagement and traffic
We setup our system to gamify and reward your objectives
Your Customer Engagement goes on autopilot while you collect data and results.
Referral and Recruiting
Who better to convince new users to join than one of their friends or family members? We allow you to reward your users for recruiting other new members to the program. On average, 18% of the members in our programs were recruited by other members.
Personalized Social Sharing
Posts shared by users reach 15-35% of their followers as opposed to brand/page posts which reach less than 5% of their followers. We allow you to create personalized social media posts (bypassing ad filters) that users earn rewards for sharing on Facebook, Twitter, and more.
Custom Surveys
Ask your users anything you would like to know and they will be rewarded for completing the survey. Surveys can include images and custom question types and are an ideal way to collect product feedback, have users participate in decisions, or gather key information.
Points for Scanning
Setup custom QR codes, NFC tags, or scan an item and reward users for following the link back to the program.
Put in broadcast to reward viewership
Add to check/receipt for quick proof of purchase
Put NCF Tag at physical locations for tap to earn checkpoints
Add QR code inside packaging for easy proof of purchase
Gamify Social Media
We can connect with your Social Media feeds and give users points or rewards for viewing each post through the program. This is a great evergreen tactic where users can always earn more points by viewing your latest posts on the platform.
Quizzes
Test your customers' knowledge with rewardable quizzes. These are perfect for verifying someone digested content or a secret word on a podcast or at an event. It's a great tool for enrollment for an easy way to prove participation.
Visit a Location
Reward customers or users for visiting physical locations. Our system can either check the user's GPS coordinates, or we can set up physical touch points where users have to tap their phone on an NFC tag to prove they were there.
View or Read Content
Add content to a post within our system and reward users when they read down to the bottom of the content.
Visit a Link or specific URL
Drive traffic to product, partner, or campaign pages by rewarding users for visiting a specific URL of your choosing. Turn it into a digital scavenger hunt by pairing it with a quiz about content on the page for additional participation.
Watch a Video
Reward users for watching a video. You can set the % required to watch before they complete the challenge, and can always follow up with a quiz question to ensure they were paying attention.
NFTs or Points for Purchasing
Keep your customers engaged beyond purchasing a product by awarding them points or NFTs.
Blockchain Proof of Purchase
With our blockchain and custom URL flow, we can quickly add blockchain certificates or proof of purchase permanently on chain. This is a great tool for verification, authenticity, and warranty guarantees.
Drop us a line.